Business Maverick
UK Blocks Microsoft's $69 Billion Activision Deal
Microsoft Corp.'s $69 billion takeover of Activision Blizzard Inc. was vetoed by Britain's antitrust watchdog, in a potentially fatal blow for the gaming industry's biggest ever deal.
The Competition and Markets Authority said its concerns couldn't be solved by remedies such as the sale of blockbuster title Call of Duty or other solutions involving promises to permit rivals to offer the game on their platforms, according to a statement Wednesday. Microsoft said it will appeal the decision.

Pressure had been mounting on Microsoft as it lobbies at home and in Europe to convince watchdogs to clear the deal — one of the 30 biggest acquisitions of all time. Crucially, the CMA's conclusions comes before decisions from the European Union and the US Federal Trade Commission, which is waiting on a hearing in the summer after formally suing to veto the transaction.

Microsoft gained 7% to $294.82 at 9:58 a.m. in New York, while Activision was down 8.8% to $79.11. If the deal is eventually blocked, Microsoft could be on the hook for a break up fee of as much as $3 billion.

"Microsoft already enjoys a powerful position and head start over other competitors in cloud gaming and this deal would strengthen that advantage giving it the ability to undermine new and innovative competitors," Martin Coleman, chair of the independent panel of experts conducting this investigation, said.

The CMA took a view that the merger could result in higher prices, fewer choices and less innovation for UK gamers. However, earlier this month it narrowed its original scope to focus on cloud gaming rather than consoles, after weighing new evidence.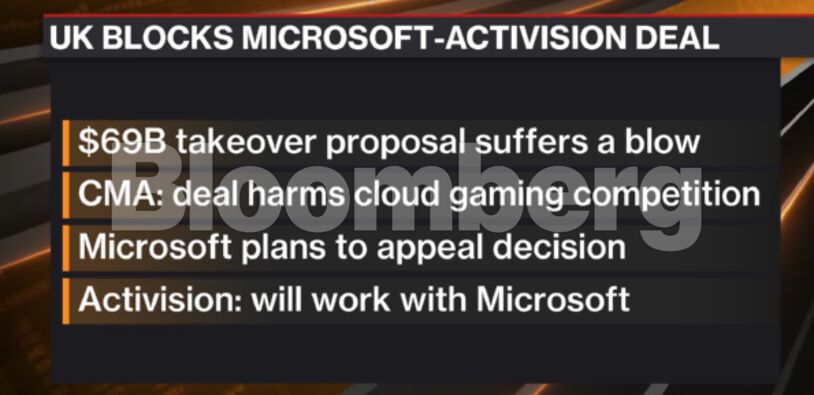 "We remain fully committed to this acquisition and will appeal," Brad Smith, vice chair and president of Microsoft, said. "The CMA's decision rejects a pragmatic path to address competition concerns and discourages technology innovation and investment in the UK."
Microsoft had been fighting the regulatory battle in the UK and Europe with an eye-catching road show of Brussels press conferences and full page advertisements in British newspapers to try to influence sentiment on the deal.
The CMA said the deal would solidify Microsoft's advantage in the market by giving it control over Call of Duty, Overwatch, and World of Warcraft titles. The watchdog found that without the merger Activision would be able to start providing games on cloud platforms in the future.
The Call of Duty's latest installment, Modern Warfare II, released in October and topped $1 billion in sales within 10 days. It became the best-selling game of 2022, according to industry researcher NPD Group.
'Good for Competition'
"We've already begun the work to appeal to the UK Competition Appeals Tribunal. We're confident in our case because the facts are on our side, this deal is good for competition," Bobby Kotick, Activision's chief executive officer, in a note to employees.
Britain's competition watchdog said any potential remedy would need some degree of regulatory oversight and it is typically against behavioral remedies.
The regulator has attempted to assert itself as a powerful global regulator since the country left the EU. In recent shows of strength, it's taken on Big Tech, including ordering Meta Platforms Inc. to reverse its acquisition of Giphy after worries it could take a stranglehold of the GIF market.
"Essentially, there has never been a successful appeal in the UK on an antitrust decision," said Aaron Glick, a merger arbitrage strategist at TD Cowen. "There does not appear to be a path forward for Microsoft."
The European Commission is still due to issue the final word on its own probe into the deal on May 22, while the FTC has scheduled a hearing into the deal in August.
---