Business Maverick
World Bank Warns Latin America's Economy Will Grow Less Than Expected
Latin America and the Caribbean will experience only modest growth this year as the region's economies suffer from high interest rates and falling commodity prices, the World Bank said in a report released Tuesday.
The Washington-based organization projects that the regional economy as a whole will expand 1.4% through December, lagging all other regions. It had projected 1.6% growth for this year, but consensus growth forecasts in Chile, Argentina and Colombia have worsened since the bank's last report in October 2022. Activity is seen expanding 2.4% in each of the following two years.

"The forecasts going forward predict the same lackluster pace of the past two decades, which remains insufficient to reduce poverty, promote inclusion, and defuse social tensions," bank analysts wrote. Fiscal imbalances remain high and will erode the equivalent of 2.7% of regional growth this year, while debt levels are seen at 64.7%, they said.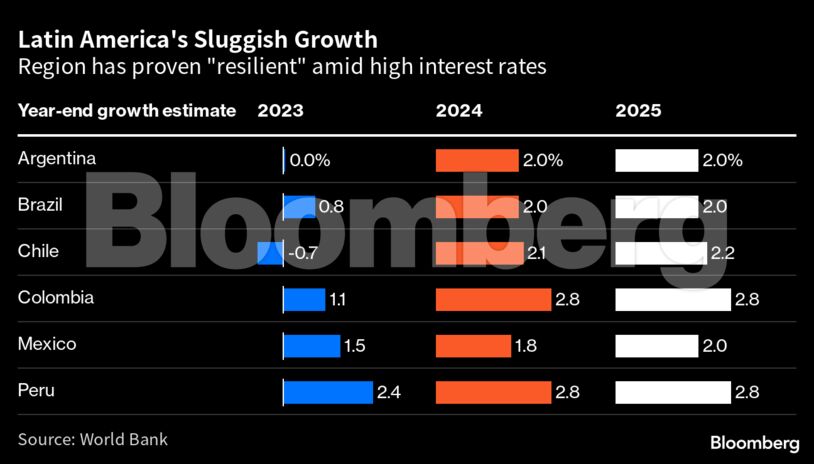 Still, the region has had "relative success" managing the ripple effects of Russia's invasion of Ukraine and a slower pace of global economic activity. Poverty and unemployment rates have returned to pre-pandemic levels and average inflation is seen slowing down to 5% this year, once regional outliers Argentina and Venezuela are excluded.
The effect of inflation and the war on food and energy prices "had a significant impact on household poverty," William Maloney, the World Bank's chief economist for Latin America and the Caribbean, said during a news conference ahead of the report's release on Tuesday. "We are hoping this will be moderated in the next year. We are optimistic that we'll return to lower levels."
Domestic impacts of the recent collapse of three regional banks in the US "remain to be seen," the report said. But the possibility of a "direct contagion" in Latin America is minimal, Maloney said.
Inflation Goals
The region's central banks, which led the world into aggressive tightening cycles in the wake of the pandemic, are expected to achieve their inflation goals next year, according to the report. High interest rates have drawn criticism from leaders like Brazilian President Luiz Inacio Lula da Silva and Colombia's Gustavo Petro, who have publicly targeted their respective central banks as they push for lower borrowing costs to boost growth.
While political tensions are "normal," recent credibility and independence gains for monetary authorities across Latin America "need to be preserved," analysts wrote in the report.
Estimates for sluggish growth are only partially due to tighter monetary policy. Foreign direct investment has fallen 16.4% in absolute terms since 2010, according to the report, which said that more government spending is needed to improve health systems, human resources and infrastructure across the region.
---