Business Maverick
Oil Surges Most in a Year After OPEC+'s Shocking Production Cut
Oil rallied the most in more than a year after OPEC+ unexpectedly announced output cuts that threaten to tighten the market and deliver a fresh inflationary jolt to the world economy.
The Organization of Petroleum Exporting Countries and allies, including Russia, pledged to make cuts exceeding 1 million barrels a day starting next month and lasting through the end of the year. The reduction surprised markets, which had expected the cartel to hold output steady. Adding to the shock, the decision came outside of the group's scheduled timetable for reviewing the market's demand and member's supplies.

"OPEC+ shows commitment to protecting against the downside," said Nadia Martin Wiggen, a partner at Pareto Securities. "The duration of the cut is the most surprising and bullish part."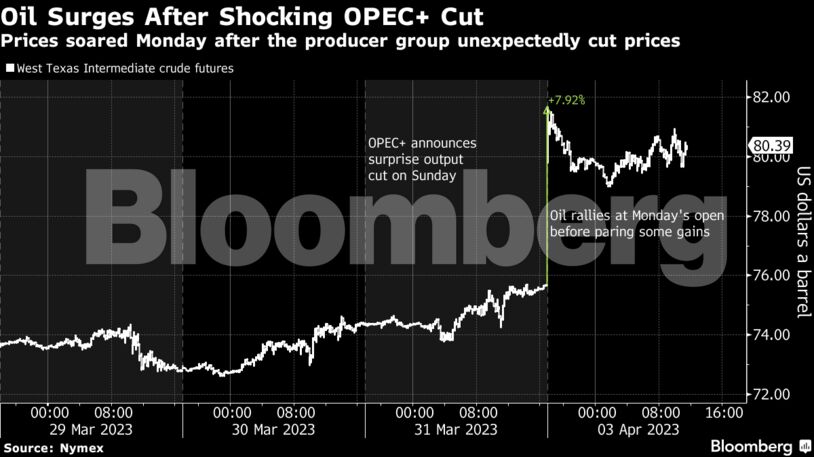 The decision quickly rippled across global oil markets. Goldman Sachs Group Inc. lifted price forecasts for this year and 2024, key timespreads surged higher amid expectations of tighter supply and a usually quiet Asian trading session saw hundreds of thousands of contracts change hands. US gasoline futures also surged, underscoring inflationary risks.
Read more: Shock OPEC+ Oil Production Cut Puts $100 a Barrel on Horizon
Before the surprise intervention, crude had capped a 5.7% quarterly drop amid banking-sector turmoil and recession risks. Still, many market watchers had said they expected a rebound in the second half, underpinned by rising demand in China.
America's Response
The White House said the OPEC+ decision was ill-advised, while adding the US would work with producers and consumers to contain gasoline prices. Last year, President Joe Biden ordered an unprecedented release from the nation's strategic crude reserves after Russia's invasion of Ukraine.
Costlier crude threatens to add to inflation, complicating central banks' efforts to tame persistent price pressures. The US Federal Reserve raised interest rates again last month, and officials are next scheduled to meet in May to set monetary policy.
Prices:
WTI for May delivery rose $4.63 to $80.30 a barrel at 11:59 a.m. in New York.

Futures rallied by as much as 8% earlier, the biggest intraday increase since March 2022.

Brent for June settlement gained $4.80 to $84.69 a barrel.
Related coverage and commentary:
Oil Curve Surges in Sign Traders Are Bracing for Tighter Market
Goldman Raises Brent Forecast to $95 for December on OPEC+ Cut
A Little-Known Oil Trade Is Going Wild as a Proxy Bet on China
---