Business Maverick
Alibaba Shares Soar After Historic Overhaul Heralds IPO Wave
Alibaba Group Holding Ltd.'s US shares surged as much as 13% after China's online commerce leader announced plans to split its $220 billion empire into six business units, a major restructuring that promises to yield several initial public offerings.
The move frees up the Chinese company's main divisions from e-commerce and media to the cloud to operate with far more autonomy, laying the foundation for future spinoffs and market debuts.

The shift to a holding company structure is rare for major Chinese tech firms and could present a template for Alibaba's peers. Decentralizing the company's business lines and decision-making power addresses one of Beijing's primary goals during its sweeping crackdown on the technology sector.

The US-listed shares jumped as high as $97.16 in early New York trading Tuesday.

The government had criticized the influence of online platforms, particularly those of Alibaba and WeChat operator Tencent Holdings Ltd. That will likely mean the restructuring would draw support from government regulators who have been concerned that concentrated power in tech suppressed innovation. Alibaba and Tencent invested in hundreds of startups over the years, often helping to craft strategy as they grew.

Tencent's US shares climbed as much as 7.3%, while those of Chinese internet search giant Baidu Inc. gained as much as 4.7%.

"It is one step in the direction with China's policy to reduce the monopolistic nature of the tech giants," said Marvin Chen, an analyst with Bloomberg Intelligence. "While China tech spinoffs are not uncommon, the move looks to be more encompassing, including core businesses, that may serve as a blueprint for the industry going forward."

Alibaba's announcement Tuesday coincided with the return of its billionaire co-founder Jack Ma to China after more than a year abroad.

It marks a departure from the internet company's traditional preference for keeping most of its operations under one roof, running everything from supermarkets to datacenters under the main Alibaba umbrella. It's also a strong signal that Alibaba is ready to tap investors and public markets, after the Xi Jinping administration's clampdown on internet spheres wiped out more than $500 billion of its value.

Group Chief Executive Officer Daniel Zhang will head up the cloud intelligence division, a nod to the growing role that AI will play in the e-commerce leader's portfolio in the long run. He will continue to run the parent company.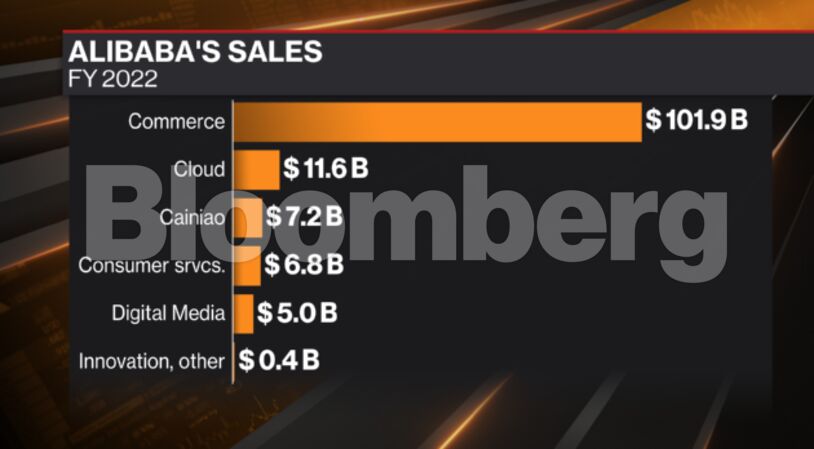 International commerce chief Jiang Fan will head up the global digital business unit, while longtime executive Trudy Dai takes up the main Taobao Tmall online shopping division. Its other divisions include local services such as meal delivery, the Cainiao logistics group and digital media and entertainment.
"At 24 years of age, Alibaba is welcoming a new opportunity for growth," Zhang said in a statement. "The market is the best litmus test, and each business group and company can pursue independent fundraising and IPOs when they are ready."
Read more: Jack Ma's Retreat Undercuts China Pitch to Private Business
Alibaba has had previous success with spinoffs. It hived off Alipay in 2010, an unpopular move at the time that nonetheless lead to the creation of Ant Group Co. The fintech affiliate controlled by Ma was on the verge of pulling off the world's largest IPO before Beijing pulled the plug, and has said it would consider a second run at the market.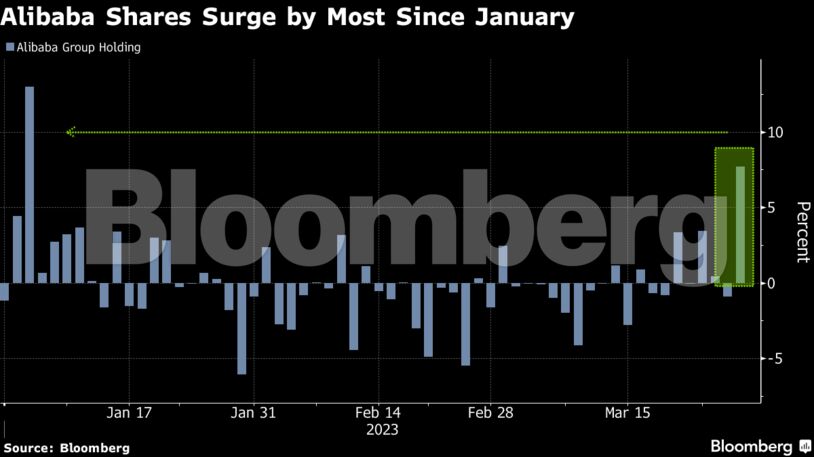 Despite the creation of a half-dozen business lines, Alibaba on Tuesday reaffirmed the cost-cutting it had pledged to shore up the bottom line. That was a conservative shift for a tech conglomerate that once spent aggressively to dominate swaths of the economy, reflecting the dissipation of growth since Xi's crackdown ensued in 2020.
Beijing has cracked down on the country's tech giants over the last two years, forcing fundamental changes in the business models of companies including Alibaba. The e-commerce pioneer is also navigating increasingly tough competition from arch-rival JD.com Inc. as well as up-and-comers such as PDD Holdings Inc. and ByteDance Ltd.
"The innovative plan to split up its businesses, we assume has had some kind of blessing from the authorities," said Gary Dugan, chief executive officer at the Global CIO Office. "In which case it will be seen as an elegant solution for unlocking the value inside the business."
Read more: Billionaire Jack Ma Gives Up Control on Ant Group
---