Business Maverick
SA Seeks Advice on Putin ICC Warrant
South Africa's government is taking legal advice on how to handle an International Criminal Court arrest warrant for Russian President Vladimir Putin in the event he attends a BRICS summit in August.
China urged Europe to support its proposal for talks on Russia's war in Ukraine, although the US has said Beijing's outline would freeze the Kremlin's territorial gains. President Xi Jinping is set to meet with more dignitaries, including the leaders of Brazil and Spain, in a bid to build momentum for the blueprint.

Spain itself, the biggest European buyer of liquefied natural gas from Russia, urged importers not to sign new contracts with Moscow.
Key Developments
Wheat Up Most in a Month on Russia Export Jitters, Dry Weather
(All times CET)
Germany Delivers to Ukraine Engineering Vehicles, Machine Guns (3:55 p.m.)
Germany delivered three DACHS armored engineering vehicles, as well as dozens of MG3 machine guns, drone sensors, and spare parts for Leopard 2 tanks and Marder infantry vehicles, according to an updated list of supplies posted on the government's website.
French Chain to Sell Russia Operations to Local Teams (1:42 pm.)
French home-improvement chain Leroy Merlin will sell its Russia operations to local management, subject to Russian regulatory approval, according to holding company Adeo.
Leroy Merlin, Auchan and Decathlon, all controlled by France's Mulliez family, had around 77,500 workers in the country as of a year ago.
Read more: Leroy Merlin to Sell Russia Operations to Local Teams
Ukrainian Energy Plants Remain Damaged After Attacks (1:32 p.m.)
More than 20 thermal plant and eight hydroelectric plant units with 5 gigawatts of energy capacity remain damaged after Russian missile and drones attacks, Interfax-Ukraina reported, citing Ukrainian First Deputy Energy Minister Yuriy Vlasenko.
According to the official, most units have been hit many times since last October and others, including five thermal stations and the Zaporizhzhia nuclear plant, are under Russian occupation.
South Africa Seeks Legal Advice on Putin ICC Warrant (11:52 a.m.)
The ICC issued the warrant against Putin for war crimes related to the alleged abduction of children from Ukraine. South Africa is a signatory to the Rome Statute that established the ICC, and because of that may be obliged to execute the arrest order.
In 2015 South Africa refused to execute an ICC warrant for then-Sudanese President Omar al-Bashir while he was attending an African Union summit in the country.
Read more: Could Putin Really Be Prosecuted for War Crimes?: QuickTake
Denmark Salvaging Unknown Object in Nord Stream Blast Probe (11:26 a.m.)
Denmark is salvaging an unidentified object found next to the Nord Stream 2 undersea gas pipeline that was damaged in a blast in September, as investigators continue to seek who was behind the attack.
The operation comes two weeks after German authorities said they searched a vessel that may have transported explosives used in the attack on the Russian pipelines.
Read more: Denmark Salvaging Unknown Object in Nord Stream Blast Probe 
Spain Urges LNG Importers to Turn Away From Russia (11:18 a.m.)
LNG importers received a letter from the government recommending that companies don't sign up to new purchases from Russia, according to people with knowledge of the matter. The letter, seen by Bloomberg News, doesn't explicitly mention spot contracts but makes a general plea to step up efforts to find non-Russian supplies of LNG.
Read more: Spain Urges LNG Importers to Diversify Away From Russian Supply 
Estonia Expels Russian Diplomat on Security Grounds (10:49 a.m.)
Estonia is expelling a diplomat at the Russian embassy in Tallinn for what was described as "undermining" the Baltic nation's security, the Estonian Foreign Ministry said in a statement. The person, who must leave the country by March 29, was accused of spreading propaganda that justifies Russia's military action, causing divisions in Estonian society, the ministry said.
Estonia in January expelled about 20 Russian embassy workers — half of its staff — saying later that many were engaged in intelligence gathering.
Russia Attacks Several Regions With Drones, Guided Bombs (9:14 a.m.)
Kremlin troops attacked several regions with Iranian-made Shahed drones and guided bombs early Friday, the Ukrainian Air Force said.
The drones were launched from the Russian area close to Ukraine's northeastern border and hit targets in the Kryvyi Rih and Sumy regions, according to an Air Force statement.
Russian tactical aircraft took off from airfields in Morozovsk and Akhtubinsk; ten Su-35 fighter jets launched 11 bombs and one Kh-31P missile over the Sumy region. No details on casualties or damage were immediately available.
Russian Sought by US for Tech Smuggling Escapes Arrest in Italy (8:42 a.m.)
A politically connected Russian who's facing extradition to the US on charges of money laundering and evading sanctions escaped from house arrest in Milan after breaking his electronic bracelet.
Artem Uss, 40, the son of a Siberian governor, was accused by American prosecutors of being involved in a global network that illegally imported US technology to support Putin's war in Ukraine.
Read more: Secret Chip Deals Allegedly Help US Tech Flow to Russia
European Defense Lobbying Group Welcomes Ammunition Plan (8:30 a.m.)
A European defense lobbying group which counts Rheinmetall and Airbus among its members welcomed the EU's plan to help speed the production of ammunition for Ukraine but called on governments to provide longer-term certainty to scale up production volumes.
"The challenge is to not only ramp up production to satisfy an immediate peak of demand, but also to enhance industrial preparedness for possible future crises," said Jan Pie, head of the Aerospace and Defence Industries Association of Europe.
ASD also urged the EU to implement additional support measures for the European defense industry, including guaranteeing reliable access to finance.
Five Killed as Missile Hits 'Point of Invincibility' (7:00 a.m.)
Five people were killed when a Russian missile struck a "point of invincibility" in Ukraine's eastern city of Kostyantynivka, according to the Kyiv-based prosecutor general offices. Russians used S300 missiles, originally designed to intercept rockets.
Thousands of "points of invincibility" have been set up around Ukraine to provide basic services — from internet access and mobile phone charging to drinking water supplies, first aid and personal hygiene products – to residents.
US Fights for Influence in Africa to Counter China, Russia (6 a.m.)
President Joe Biden's administration is stepping up a campaign to build American influence in Africa, where the US has lost ground to its main rivals in what's starting to look like a new Cold War.
Vice President Kamala Harris's trip to Ghana, Tanzania and Zambia next week follows closely after visits by Treasury Secretary Janet Yellen and Secretary of State Antony Blinken.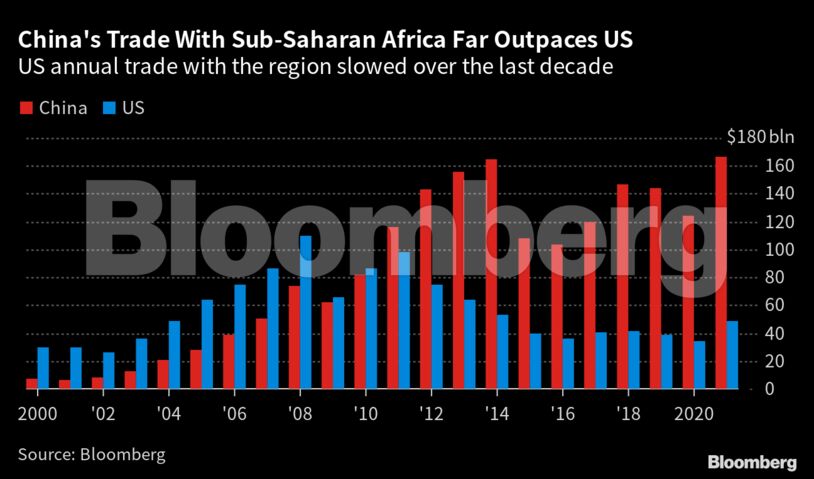 China Urges Europe to Support Its Blueprint (4 a.m.)
China's top diplomat urged Europe to play a role in supporting peace talks, although the US has said Beijing's recent blueprint would effectively freeze the Kremlin's territorial gains in Ukraine's east and south from the past year.
"A cease-fire, stopping the war, resuming peace talks and a political settlement of the crisis should become the strategic consensus between China and Europe," Wang Yi told a diplomatic adviser to France's president, in a phone call on Thursday.
Chinese President Xi Jinping's diplomatic push is picking up steam after his return from Moscow. Xi is set to meet with more dignitaries as he attempts to build momentum for a cease-fire proposal to halt Russia's war in Ukraine.
---