Business Maverick
Tencent Resumes Slim Growth As China's Internet Sector Stirs
Tencent Holdings Ltd.'s revenue inched 1% higher after two successive quarters of contractions, fueling hopes a Chinese economic recovery coupled with a looser regulatory environment will revive its growth in 2023.
China's gaming and social media leader reported a 15% jump in online advertising revenue in the final three months of 2022, as its TikTok-style video feature drew marketers. Executives credited an improving economy for spurring spending, while affirming hopes Beijing will ease up on regulations after a crackdown since 2021 that obliterated growth across sectors from gaming to content.

Shares in Prosus NV and Naspers Ltd., Tencent's biggest shareholders, rose as much as 2.7% after the results. Revenue rose to 144.95 billion yuan ($21 billion) for the December quarter, matching analyst expectations.

While Tencent managed to snap its contraction streak, the growth rate is still a far cry from just a few years ago. The WeChat operator and global gaming publisher routinely racked up double-digit gains until regulators clamped down on undesirable online content and froze gaming approvals to fight addiction.

But Tencent President Martin Lau, second-in-command to billionaire founder Pony Ma, played up the company's prospects in international gaming and AI this year — a nod to the frenzy that's swept the global tech sector since the November rollout of OpenAI's ChatGPT. Calling it a "growth multiplier," Lau said Tencent will gradually integrate artificial intelligence capabilities across its suite of products from WeChat to online media.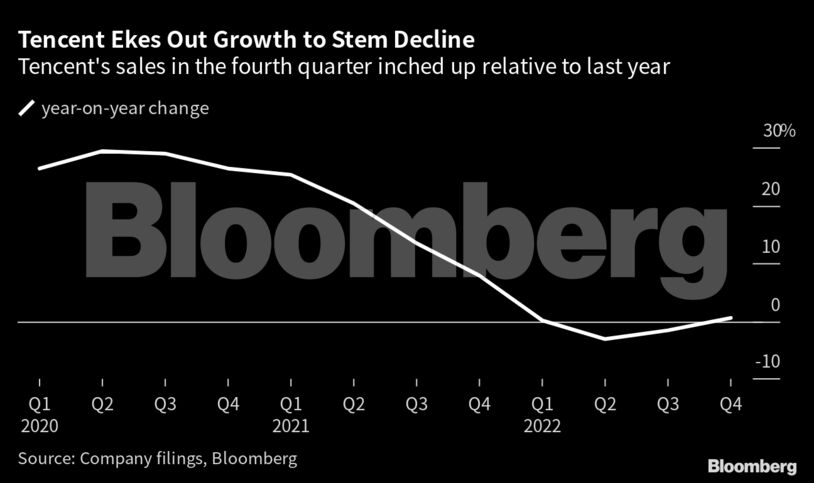 At a time when companies like Microsoft Corp. and Google are rushing to show off their latest AI creations, Tencent has said its plans for ChatGPT-style tools are underway. ChatGPT, now a global phenomenon, triggered a race among Chinese tech firms to catch up, and Baidu Inc. has already scored positive reviews among selected users.
"We have longstanding experience in adopting and developing AI technologies," said Lau, who's rotating off the board at the end of this year's shareholder meeting. The rise of AI interest and adoption is "very beneficial to us as our core social and gaming businesses are user-to-user oriented, which are hard to disrupt with AI technology, but stand to be enhanced by it."
For a liveblog on the results, click here.
Some areas of Tencent's business didn't fare so well. The burgeoning cloud and fintech business was hit particularly hard by China's sudden Covid reopening in December, which ignited a wave of infections and disrupted consumer sentiment and online payments. The division posted its first revenue decline — by 1% — since Tencent broke out that segment in 2019. Its cloud revenue also declined as Tencent tried to get rid of loss-making contracts.
And while international games revenue climbed 5%, the domestic business shrank 6%.
Net income, which came in at 106.3 billion yuan, was buoyed by a one-time gain of more than 85 billion yuan from changes such as the disposal of stock in food delivery giant Meituan, the company said in a filing Wednesday.
What Bloomberg Intelligence Says

Tencent's 4Q earnings are broadly in line with our expectations, boosted by one-off gains from disposing of Meituan shares, but we don't see the start of a sustainable earnings rebound. Stronger-than-expected advertising and international game revenue were offset by a weaker showing in domestic games and fintech. Lower sales & marketing expenses boosted adjusted operating margin to 27.2% from 23% a year ago. The second quarter is set to be better but we expect any rebound to be short given macro risks and a domestic gaming slowdown.

– Robert Lea and Tiffany Tam, analysts

Click here for the research.
Tencent has gained more than $160 billion of market value since hitting an October trough, helped by Beijing's resumption of approvals for blockbuster games after a months-long halt. A succession of public officials have since endorsed the gaming arena, joining Xi Jinping's administration in declaring support for the private sector.
But many industry executives and investors have cautioned against buying wholesale the Chinese government's rhetoric, worried that Beijing may again tighten the reins once the world's No. 2 economy stabilizes. Much of the internet sector remains shell-shocked after two years of blistering regulatory clampdowns on everything from e-commerce and the sharing economy to online content and its consumption.
Read more: Tencent Plans 'Valorant' League as Gaming Crackdown Eases
Once its bread and butter, Tencent's domestic gaming sales barely grew over the past year, but global hits like Valorant and Lost Ark are slated to refill its long-empty pipeline in 2023 after the Shenzhen company secured its first batch of major game approvals in December. The world's biggest games publisher is even hatching plans for a Valorant esports league, which will help generate eyeballs and sponsorships for the Riot Games Inc. shooter.
Tencent's appetite for foreign gaming assets is increasing at a time when it's divesting other assets and spending more judiciously at home. In November, the WeChat operator pledged to dole out $20 billion of stock in Meituan as a special dividend, about a year after similar divestitures of JD.com Inc. and Sea Ltd. However, rising tensions between the US and China — as evidenced by the brewing push to force a ban or the sale of ByteDance Ltd.'s TikTok in the US — could hurt Tencent's international gaming foray.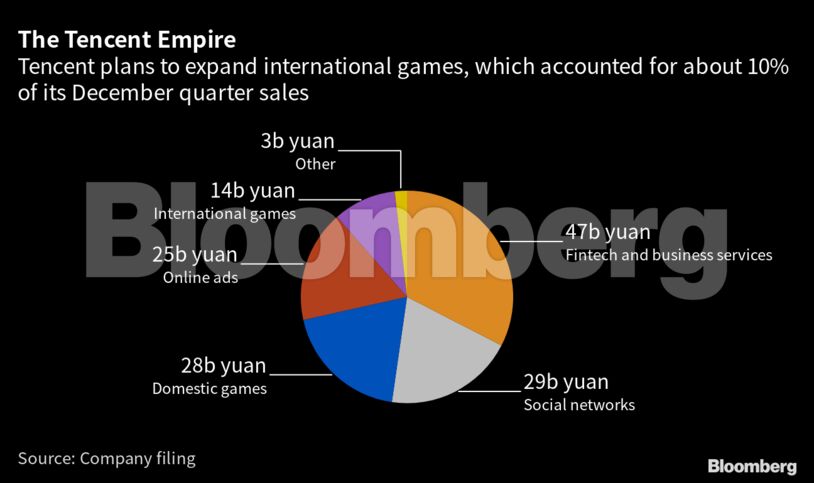 WeChat's fledgling short-video feed has been a rare bright spot in Tencent's portfolio. The company is under pressure to better monetize China's most ubiquitous app, just as users and marketers flee to rivals like ByteDance. WeChat's video accounts tripled in views last year, garnering more than 1 billion yuan of ad sales through the feature in the fourth quarter.
"The ads turnaround is pretty positive, showing that WeChat video accounts is a real opportunity for Tencent," said Vey-Sern Ling, senior equity advisor for Asia technology at Union Bancaire Privee. "New approvals of game titles for the domestic market could also help growth this year."
Like its rivals, Tencent implemented unprecedented cost curbs to make it through 2022's economic malaise. It cut thousands of jobs across the board, and sluggish businesses like some parts of e-commerce and live-streaming have been shut down altogether. In December, Ma delivered a rare rant about complacent employees in a town hall meeting, stressing aggressive cost controls "should become a habit" going forward.
Over two decades, Tencent has expanded and then contracted in waves — that's how it figures out what it's good or bad at, the billionaire told reporters Wednesday. Last year made them realize they should resist the temptation to wage a "war of attrition."
Tencent will consider which teams or products to cut this year and beyond, based on margins and their long-term vision, he added. The aim is to "get rid of the fat, and build muscles," Ma said.
---