Business Maverick
China Bonds Rally as Rate Cut Reinforces Split With Treasuries
China's sovereign bonds are back on the menu for foreign investors.
The nation's debt rallied Monday after the central bank unexpectedly cut interest rates, with the 10-year yield dropping to the lowest level in more than two years. The surprise easing move underscores how the nation's bond market offers investors an asset class that's uncorrelated to Treasuries and other global fixed-income assets.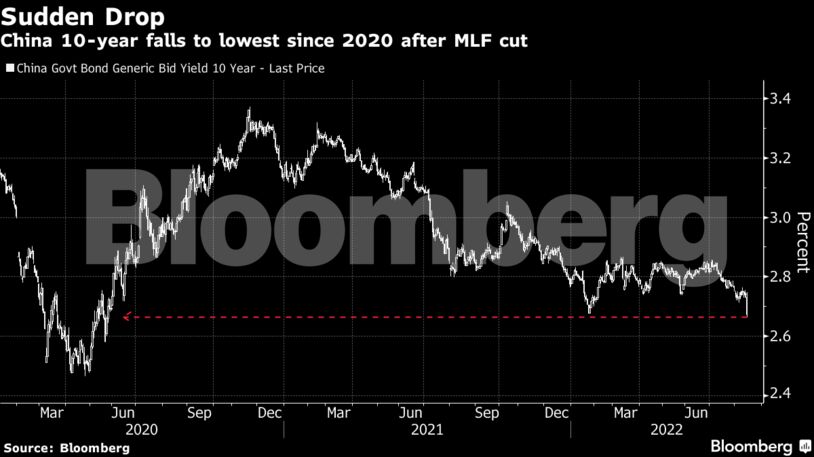 The gains also marked quite a turnaround. Just a week ago, analysts and a former official had argued the People's Bank of China wouldn't cut its policy rates any further, while foreign funds had reduced holdings for five straight months. The question now is what other steps will China take to revive a Covid-stricken economy.
"The rate cut is a sign that the PBOC for now is prioritizing growth over curbing leverage," said Carie Li, global market strategist at DBS Bank (Hong Kong) Ltd. "The 10-year yield could fall to 2.60% in the near term. We may start to see some diversification demand from foreign investors into Chinese bonds."
Chinese bonds have been relatively stable compared with global debt, with the nation's benchmark yield trading in a 20 basis-point range this year. Yields on US 10-year notes have surged 126 basis points over the same period as the Federal Reserve has hiked rates aggressively to combat inflation.
Foreigners Return
In a further dose of positive news, a China government report showed overseas investors boosted holdings of the nation's sovereign debt in July for the first time in six months. They bought a net 3.3 billion yuan ($488 million) of the securities, after selling a record 55.9 billion yuan in June, according to data from China Central Depository & Clearing Co.
The prospect of an increasingly dovish PBOC also helped lure leveraged buyers back into China's shorter-maturity bills, which suffered a selloff last week on concern the PBOC would act to rein in liquidity. Yields on one-year bills slid 15 basis points Monday.
Over the longer-term, however, any sustained and aggressive policy easing in China could undermine the attractiveness of yuan-denominated notes.  Such moves could deepen the country's rate discount to the US. Policy divergence, coupled with a falling yuan and pessimism over the Asian nation's economy, were the main reasons behind the selloff in onshore bonds earlier this year.
Even though overseas funds grew more interested, the inflows in government bonds in July was a fraction of the outflows seen in the previous five months. Foreign investors still kept selling policy bank notes and local government debt last month.
The previous concerns are eased by PBOC's surprise move and a recent slew of weaker-than-expected economic data, said Yang Hao, a fixed-income analyst at Nanjing Securities. "Helping to support growth seems a more important priority for policy markets right now, than containing the risks derived from rising bond leverage and low interbank rates."
While the nation's 10-year yield closed eight basis points lower at 2.65% following the PBOC's decision, other asset classes fared less well. The offshore yuan slid the most in a month, while the benchmark stock index closed lower after initially rising on news of the rate cut.
Read More: China Shocks With Rate Cut as Data Show 'Alarming' Slow
Traders in the stock market were far from enthusiastic about the PBOC's decision, with several indicating that a lot more needs to be done to stimulate the economy under pressure from China's Zero Covid policy, turmoil in the property market and rising geopolitical tensions.
"The measures are not strong enough to reverse market sentiment," said Shen Meng, a director at investment bank Chanson & Co. in Beijing. "The market is still looking forward to the introduction of more vigorous unconventional monetary policies."
---