Business Maverick
Gold Hits Four-Week High as Pelosi's Taiwan Trip Stirs Tensions
Gold rose to the highest in almost a month as investors braced for a stormy period in US-China relations with House Speaker Nancy Pelosi heading for Taiwan.
The precious metal often benefits from bouts of geopolitical turbulence and Pelosi's trip adds to tailwinds that helped gold rebound from a 15-month low. Growing fears about the global economy also have aided bullion's rise.

Pelosi is expected to arrive late Tuesday in Taiwan, which China views as its territory. She would be the most senior US politician to visit the island in a quarter century and Beijing has warned of "grave consequences" that could include military action.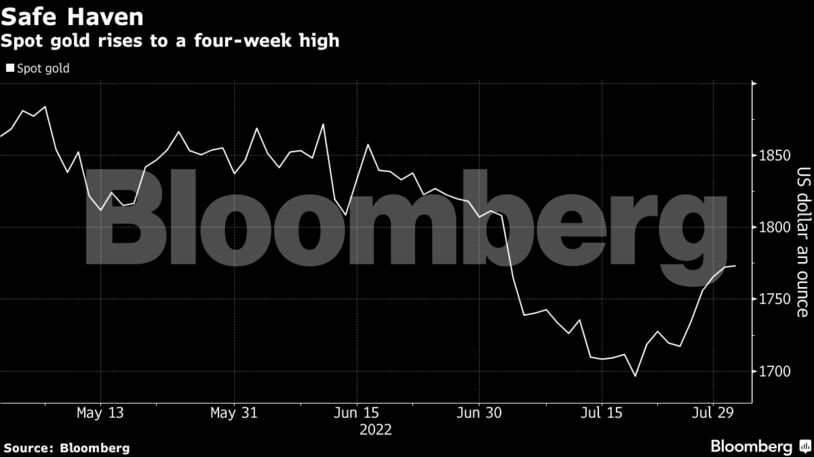 Helping bullion's recovery could also be an end to outflows from gold-backed ETFs after 21 days of uninterrupted withdrawals, according to Commerzbank AG analyst Carsten Fritsch. While ETF holdings were reduced by 94 tons in July — the biggest monthly outflow since March 2021 — investor sentiment may be shifting, he added.
"Recently there were three consecutive days of inflows, which could point to a shift in sentiment among ETF investors," Fritsch wrote in a note.
Spot gold rose as much as 0.7% to $1,784.59 at 3:28 p.m. in London. The Bloomberg Dollar Spot Index rose 0.4% as platinum edged higher. Silver and palladium declined.
---