Business Maverick
Dollar dominance crushes Asian currencies as bond yields surge
The dollar is powering ahead against almost all its major global peers, buoyed by higher Treasury yields and a selldown in stocks that is turbo-charging demand for the world's reserve currency. 
The Bloomberg Dollar Spot Index gained for second day on Friday, approaching a two-year high set last month as investors seek shelter amid concern Federal Reserve interest-rate hikes will send the global economy into recession.

Asian currencies were the biggest losers on Friday, with the Taiwan dollar, South Korean won and the Chinese yuan all dropping at least 0.5%.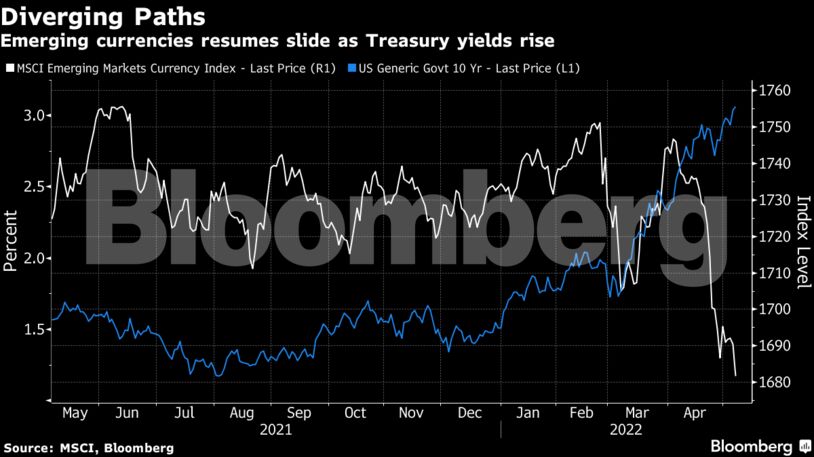 "After such a brutal selldown, you're probably not wanting to plonk your money down anywhere else other than dollars when all you're focused on is safety," said Vishnu Varathan, head of economics and strategy at Mizuho Bank Ltd. in Singapore. "The dollar is the only safe prize in town right now."
A mix of higher interest rates and geopolitical uncertainty has boosted Bloomberg's dollar gauge by more than 6% this year. Relentless dollar strength has hammered the yen in particular, with Japan's currency sliding almost 12% since the end of December as the nation's dovish monetary policy diverges with the Fed's hawkish rhetoric.
Read: Treasuries Hammered Ahead of Jobs Report as Market Doubts Powell
"King dollar still has more to gain over coming months," said Rodrigo Catril, strategist at National Australia Bank Ltd. in Sydney, who recommends a core long dollar position in portfolios. ""The Fed remains resolute on its quest to quickly get to neutral if not going beyond." BM
---
Daily Maverick © All rights reserved
We use cookies on our website to give you the most relevant experience by remembering your preferences and repeat visits. By clicking "Accept All", you consent to the use of ALL the cookies. However, you may visit "Cookie Settings" to provide a controlled consent.
Manage consent
Privacy Overview
This website uses cookies to improve your experience while you navigate through the website. Out of these, the cookies that are categorized as necessary are stored on your browser as they are essential for the working of basic functionalities of the website. We also use third-party cookies that help us analyze and understand how you use this website. These cookies will be stored in your browser only with your consent. You also have the option to opt-out of these cookies. But opting out of some of these cookies may affect your browsing experience.
Please peer review 3 community comments before your comment can be posted
Become an Insider
There are many great benefits to being a Maverick Insider. Removing advertising from your browsing experience is one of them - we don't just block ads, we redesign our pages to look smarter and load faster.
Click here to see other benefits and to sign-up to our reader community supporting quality, independent journalism.
Find out More
Subscribe to our Newsletters