DAILY MAVERICK 168
Covid-19 'media extinction event' is a chance for renewal of journalism
What can South Africa learn from other countries' media?
First published in the Daily Maverick 168 weekly newspaper.
Last year brought a reckoning for the media, as jobs were eviscerated and advertising revenue evaporated. This decimation in the sector, which accelerated trends already evident for decades, was wrought by the global pandemic to refashion the media of the future.
Print readership plummeted as readers shifted to (free) online. There's no doubt that the Covid-induced recession in the media will continue to stain it for years to come. These are the findings of a report titled "Thinking globally, acting locally – Reviving and sustaining South African journalism in a post-Covid-19 world" by Dr Harry Dugmore, released by the Open Society Foundation for South Africa and School of Journalism and Media Studies at Rhodes University.
"Reviving and sustaining South African journalism" draws on recent academic studies, industry and market research reports, and data from other countries, while taking note of the findings of the South African National Editors' Forum (Sanef) inquiry into media ethics (the Satchwell Report, released in January 2021) and the upcoming Sanef report on media sustainability.
With journalism facing an assortment of crises, of credibility/trust, business model/revenue and of audience engagement, the report asks what can South Africa learn from other countries' media in terms of thinking about and provision of journalism and – critically – its funding. "What, in other words, can be usefully drawn from global thinking about the economics of journalism that could be applied to or adapted for South Africa?"
Dugmore, who is now a senior lecturer in communication at the School of Creative Industries, University of the Sunshine Coast in Brisbane, Australia, notes that while there is talk in many countries that the Covid-19 pandemic impact on economies might have precipitated a "media-extinction event", what it has done in much of Africa and in this country is reveal how heavily SA news media has relied on advertising revenue.
Many multinationals, he says, including Google and Facebook, make vast profits in local jurisdictions but pay very little tax. "Getting these companies to pay more in tax may be a more fruitful strategy to fund journalism as the closely watched Australian approach may not create the kind of global precedents that many are hoping might emerge. Many countries have even less leverage over these multinationals, even though Australia is a relatively small market for all of them."
But are the multinationals "stealing" local content – or are their algorithms harvesting data? Dugmore believes aggregating users' search, news and other data and then selling this "aggregated audience" attention is the cause of the market imbalance which most news organisations cannot match. "It is clear from the Australian example that to avoid interventions that require some scrutiny of their [multinationals'] operating systems and proprietary intellectual property – as they see it – these platforms are prepared, it seems, to contribute large sums of cash, if pushed, to directly support journalism in particular countries. Countries, and organisations could leverage this, and work out ways to increase their bargaining power to work out more mutually beneficial deals."
He suggests that South Africa works closely with regional groupings to investigate a continental response to multinational platform power, that SA amend tax laws to enforce a fairer taxation of profits derived from local advertising, to compel multinational companies to "pay for news", and that Sanef and other bodies work more closely with the government and social media platforms to support public interest journalism.
On public service media (PSM), he says discussions are moving away from licence fees. "The key reasons for licences as a revenue source for PSMs have always been the promotion of impartiality and independent from government influence, and to engender a sense of public ownership [and affection] for PSMs… But in South Africa, and in many other countries, licence fees … provided limited protection from interference."
South Africa, he reminds readers, has also had nine ministers of communication in a decade. "It is of course high time the communication portfolio at ministerial level is given the stability of an experienced minister who can develop and then stick around and execute, a coherent vision for not just the media sector in SA, but the entire telecommunication sector, and devise and implement the longer-term structural solutions the country needs".
Global studies show only about 30% of consumers are prepared to pay for news products and most people who have subscriptions only have one digital subscription.
Global best practice suggests privately owned media should be complemented by PSMs but in a mixed model. There is growing recognition that regional and local news require direct subsidies beyond state support. Some countries, Dugmore says, provide funds for a second city newspaper, while others allow all news media to apply for grants (usually government funded) and other support. "Experience in some wealthier countries suggests that when efficiently enacted, news organisations receive direct funding from governments, either for specific digital transition projects, or for training and equipment, or other forms of direct support of local news operations, are then able to better seek and obtain income from audiences via forms of paywall/subscriptions or membership income, and via forms of localised digital advertising and sponsorship," he says.
"Because local news is best done by locals, but economies of scale are needed to keep costs low, back-end infrastructure can be centrally or collectively provided and heavily subsidised…"
Media development and diversity agencies should also be given a greater role and more funding to help online, TV and radio organisations to develop, to support public interest journalism and local as well as hyperlocal news, through grants that could be used for creating or upgrading websites, to improve content management systems, buy better equipment and train staff.
Controversially, Dugmore calls for direct government funding for local news, saying it is likely to be the key to the future of local journalism the world over. And he says that the SA local news ecosystem needs to be reshaped by placing the public broadcaster, the SABC at the centre of the national plan, which should be supported by a graduated tax collected by SARS for news and information provision that charges the wealthier more than the poor, and provides free news to the elderly or indigent. Reviving – and sustaining – SA journalism means integrating local and regional news with the SABC's regional news desks, and helping the public broadcaster to work more closely with regional media, "possibly as a conduit for funding, including, as the BBC has done, funding rural and regional journalist posts directly".
"Despite the severe economic downturn and pressure on the South African government for relief spending, there is a strong case to be made for more systematic and substantial funding of news…"
Citing a report from 2014, commissioned by the Association of Independent Newspapers, Julia Plessing examined state media subsidies of the print media in Africa, Latin America and Scandinavia: "The report did not get the coverage and acknowledgement it deserved, and its key point – that state support for journalism outside of just the public broadcast system was, globally, already then becoming a more mainstream idea than we are aware of in South Africa, requires re-emphasising. This is even more true in 2020."
Plessing had noted that state support for media outlets is widely practised in Europe, North America and west Africa.
"Most social-democratic European governments … have provided large-scale support to the media sector from the 1960s and 1970s onwards, either directly or indirectly.
"Moreover, even in places like the United Kingdom and the US, which have always had a great belief in market self-regulation, governments have pumped billions into the press and media houses."
A better case for journalism and the news industry's pivotal role in promoting social cohesion, forging social compacts, and exhorting and renewing positive values and norms in society needs to be made, Dugmore concludes: It goes beyond the survival of the industry but rather to help it flourish by working with, and challenging, multinationals such as Facebook, Google, Netflix and digital platforms to find ways to fund and support news operations. DM168
This story first appeared in our weekly Daily Maverick 168 newspaper which is available for free to Pick n Pay Smart Shoppers at these Pick n Pay stores.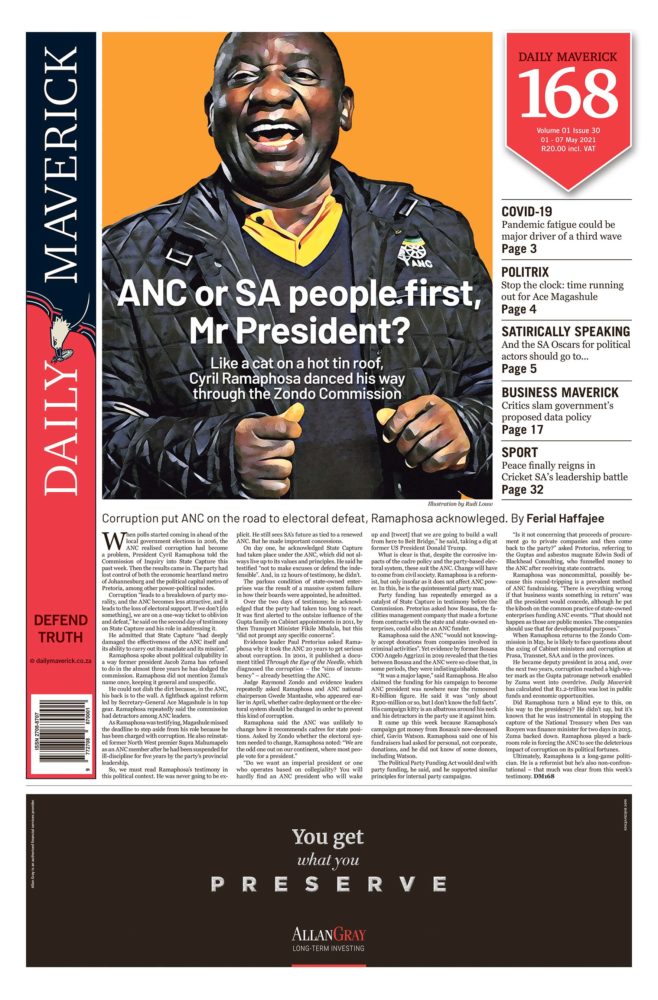 ---