Trafigura is overstating the value of debt securities related to its 49.5% stake in Porto Sudeste, an iron ore export terminal in Brazil, Iceberg, headed by Arnaud Vagner, said Wednesday in a report on its website. Iceberg estimates those securities may be worth only a 10th of the $490 million carrying value that Trafigura attributes to them."We found that Trafigura ignores economic reality to aggressively overvalue hundreds of millions in debt securities issued by an associate," Iceberg said, adding that it holds a short position in Trafigura's debt.

IFRS accounting rules call for a valuation that's specific for assets with little liquidity, know as level 3, "instead of relying on a market price that could be lacking economic ground," Trafigura said in an emailed statement. The free float of the securities in question is approximately 10% and the volume traded per day is less than $8,000, the firm said.

Trafigura is the world's second-biggest independent oil and metals trader, but also owns infrastructure and mining assets.

The report increases scrutiny on Trafigura's accounting. While the company is closely held, it's long been followed by hedge funds and other investors looking to profit from fluctuations in its bonds. The publication is the first time Iceberg has targeted a commodities trader since a series of reports, starting in 2015, alleging aggressive accounting at Hong Kong's Noble Group.

Trafigura's $400 million of senior bonds due in 2023 were indicated 2 cents on the dollar lower at about 93 cents on Wednesday, according to data compiled by Bloomberg.
Valuation Change
Iceberg said that in 2015 Trafigura switched from a mark-to-market valuation of the Porto Sudeste securities to relying on its own calculation to determine their value — a Level 3 valuation in accounting jargon. After adopting that accounting methodology, Trafigura booked revaluation gains on the securities in 2015, 2017, 2018 and 2019, Iceberg said.
The revaluation gains boosted Trafigura's profit, while ignoring a decline in the market value of the securities and the financial uncertainty highlighted by Porto Sudeste's auditor, Ernst & Young, Iceberg said.
"It seems Trafigura thinks they are smarter than the market when valuing securities," Iceberg said.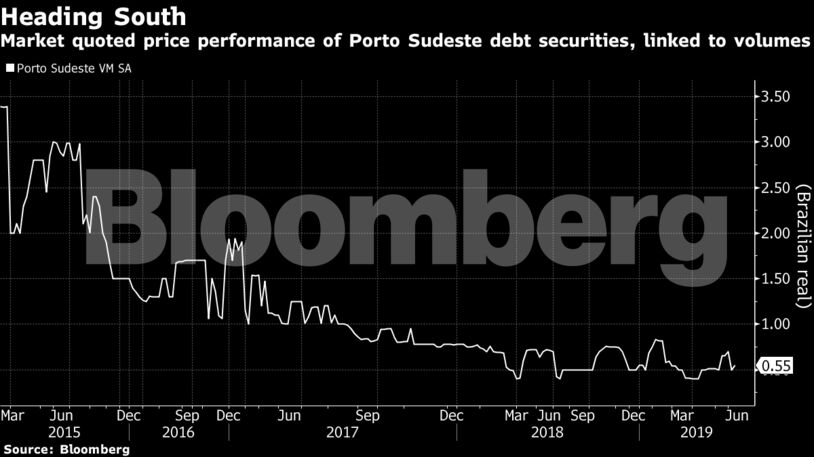 Vagner, a former Noble credit analyst, published the reports on Noble anonymously. The allegations started a downward spiral for what was once Asia's largest commodities trader, forcing billions of dollars in asset writedowns, and an eventual court-supervised debt restructuring in 2018.
Noble always denied Iceberg's allegations and sued Vagner in Hong Kong, alleging he and a Seychelles-registered company conspired to damage the commodities trader by anonymously spreading false and misleading information. Vagner denies the allegations in the ongoing suit. He revealed himself to be behind the Iceberg reports for the first time last year.
Trafigura and Mubadala Investment Co., an Abu Dhabi sovereign wealth fund, bought a controlling stake in the company developing Porto Sudeste in 2014 for about $400 million from a venture of former billionaire Eike Batista.
The port has struggled to attract users and remains underutilized. Brazil's iron ore sector is dominated by Vale SA, which has its own export facilities. Trafigura said the port handled 9.5 million tons of ore in 2018, well below its capacity of 50 million tons.
Profit Rebound
Trafigura said this month that its adjusted debt rose to $7.6 billion at the end of March, from $6 billion six months earlier. Total debt climbed to $32.7 billion, the highest among the major independent commodities traders.
Fiscal first-half profit jumped by 92%, after oil-trading earnings rebounded sharply. That came after Trafigura's profit declined for four straight years amid dismal metals markets and a shift in oil markets, which made it tougher to make money storing crude to sell later at higher prices.
Trafigura has more than 2.2 billion euros ($2.5 billion) of bonds outstanding, but hasn't requested a rating from major Western agencies. It was awarded a AAA rating by China Chengxin International Rating and China Lianhe Credit Rating for its maiden yuan bond sale last year.