Bullion for immediate delivery jumped as much as 2.5% to $1,394.11 an ounce, the highest since September 2013, and traded at $1,380.18 by 9:34 a.m. in Singapore. Futures in New York climbed as much as 3.6% to $1,397.70 an ounce, also the highest since 2013.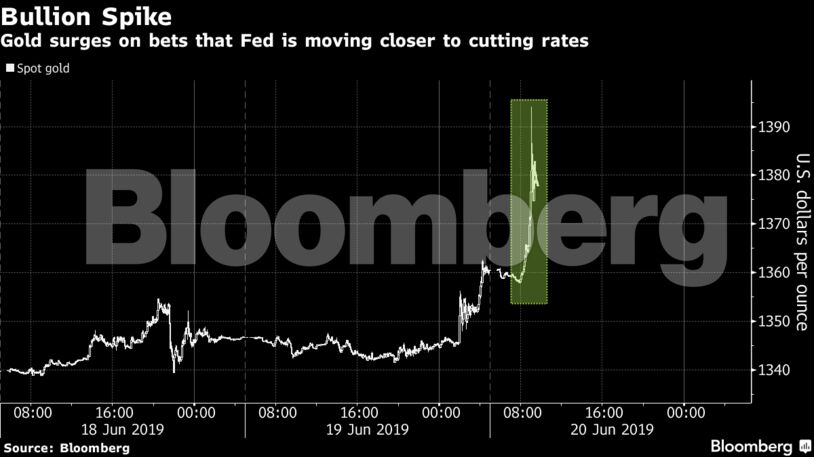 The metal has rallied since late May as investors seek havens amid slowing global growth due to the fallout from the U.S.-China trade dispute and as central banks globally adopt a more dovish tone. While the Fed left its key rate unchanged on Wednesday, it dropped a reference to being "patient" on borrowing costs and forecast a larger miss of their 2% inflation target this year, which weighed on the greenback.
"Easier monetary conditions are likely here to stay," Michael McCarthy, chief market strategist at CMC Markets Asia Pacific Pty, said by phone. "The important aspect of this run higher is that it's breaking through important technical resistance levels, so we've also got technical impetus adding to that fundamental shift in monetary conditions. Throw in a weakening U.S. dollar, we've got every reason to expect a good performance from gold."
Speaking on Wednesday, Chairman Jerome Powell noted that apparent progress on trade talks had "turned to greater uncertainty" and many Fed officials "now see that the case for somewhat more accommodative policy has strengthened." The shift followed the European Central Bank's dovish stance this week, as well as attacks on the Fed by President Donald Trump for not doing more to bolster the economy.